Report of Symposium:
"21st Century Network Society and Copyright Issue"
Event commemorating the100th Anniversary of the enactment of the Copyright Law
---

Commemorating the 100th anniversary of the enactment of the Copyright law and with the 21st century just around the corner, rapid development and diffusion of the Internet we have seen in recent years is of no coincidence.
This symposium aims to discuss the issue of "How music copyrights should be argued and respected", and suggests the prosperous future music scene through the application of the Internet. (Admission fee required)
Sponsored by: AMEI
Co-Sponsored by: Nihon Keizai Shimbun Inc.
Supported by: Ministry of Cultural Affairs, Ministry of International Trade and Industry (MITI)
Date: 10:00AM to 5:30 PM, Monday, October 4, 1999
Venue: Tokyo International Forum Hall D
---
[First Session(10:00AM to noon)]

Seminar: "Practical Business Application of Copyrights on the Internet"
 (Music edition, Photos/Images/Graphics edition, Animation edition, Literature/News edition)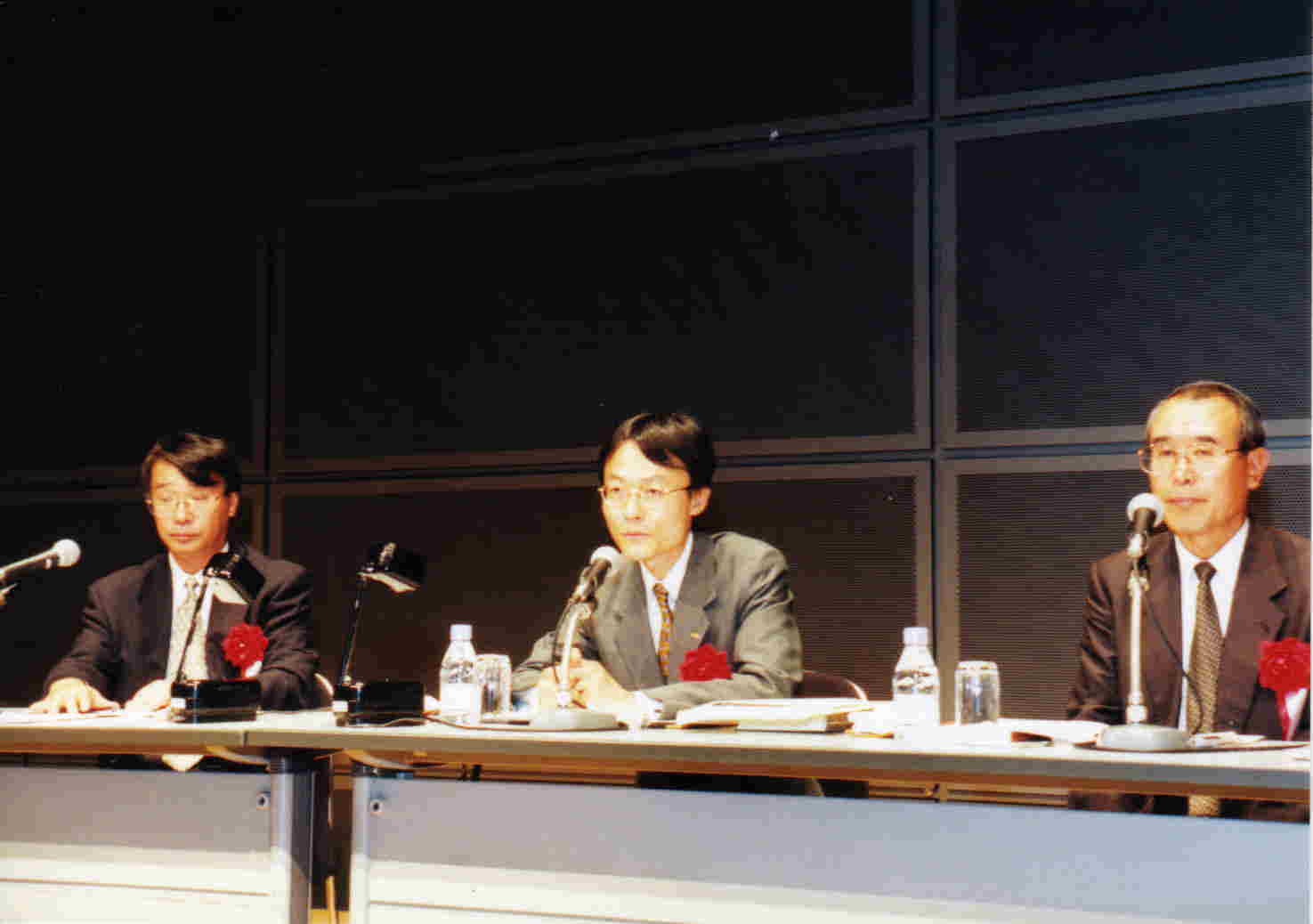 Lecturers: (from right)
    ・ Sumio Iijima, Lawyer
    ・ Hideki Nogata, Manager of Transmission Right ,Network Division, JASRAC
    ・ Ryuichi, Sasaki Chariman of Music Copyrights Committee, AMEI 
---
[Second Session (1:00PM-3: 10PM)]

 Discussion: "Artists and Their Creative Activities on Network Society in the21st Century "  
↓ Ryu Murakami, Novelist (left) and Ryuichi Sakamoto, Musician (right), in discussion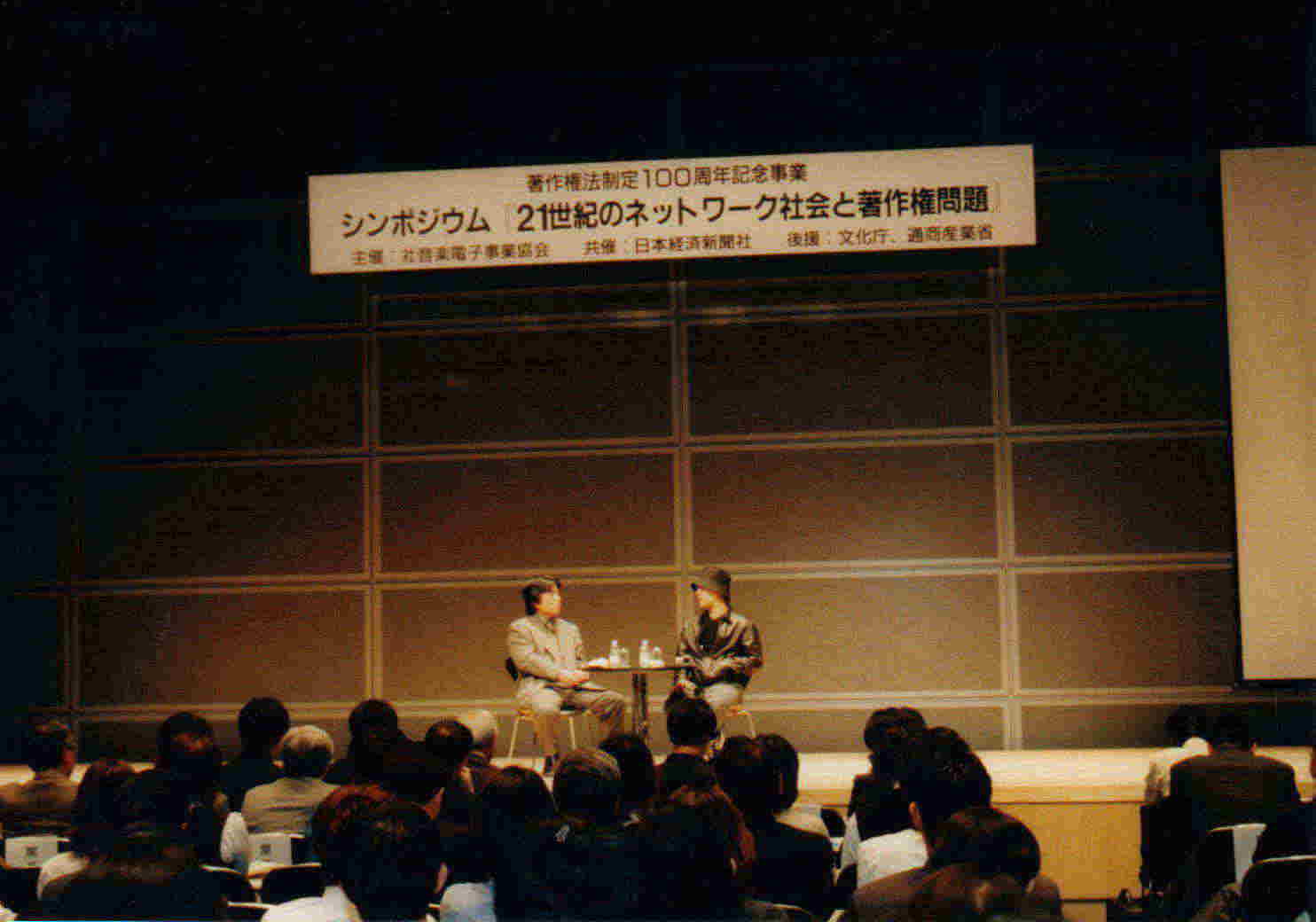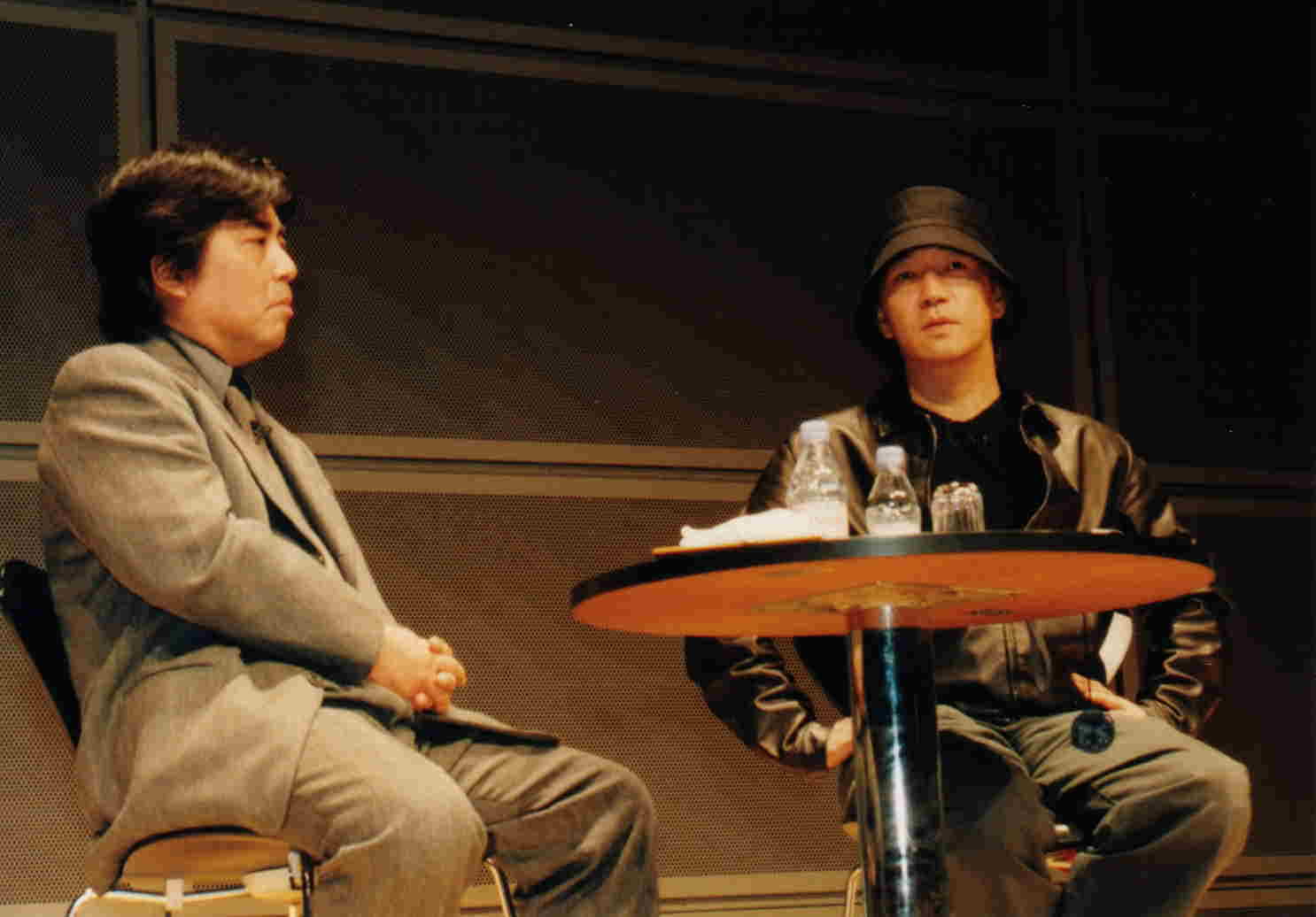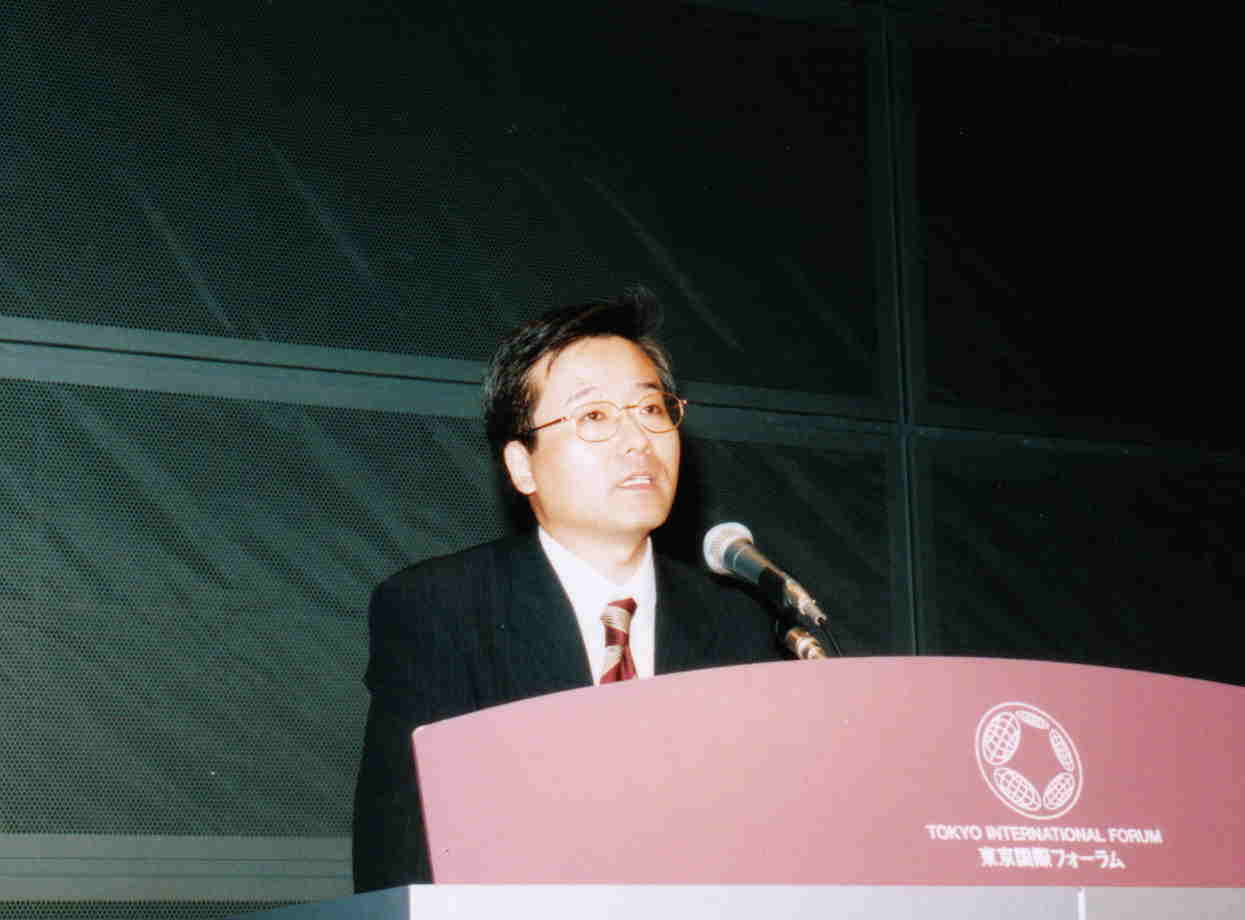 Keynote Speech: "Copyright Law in the 21st Century"

← Professor Fumio Sakka( Junior Professor Yokohama University) during his speech  










---
[Third Session (3:30PM-5: 30PM)]
 Panel Discussion:  "Future of Music Distribution On Network"
 - Network Music Distribution and Silicon Audio Equipment -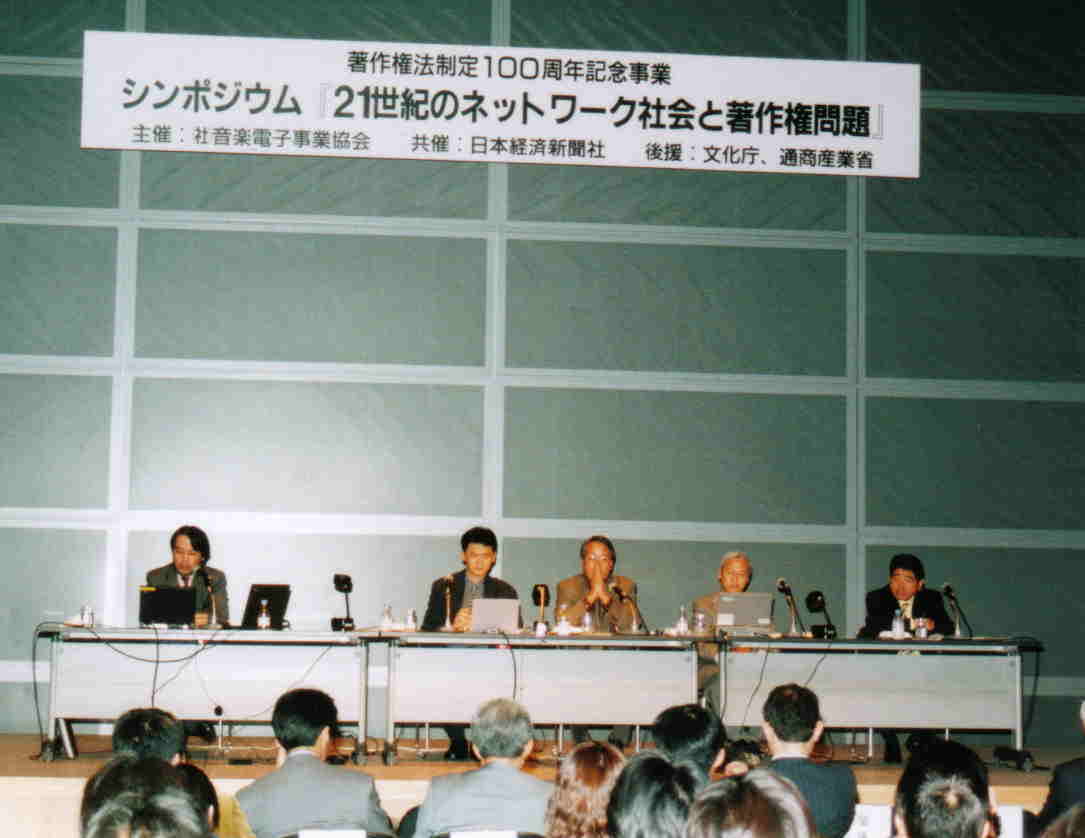 Hiroshi Uryu( Manager of System Development Division of Recording Industry Association of Japan: RIAJ)
Manabu Kodo (Digital project Vice President of Sony Music Entertainment Inc)
Takao Suzuki (General Manager of Corporate Office of Sanyo TechnoSound Co., Ltd.)
Yoshio Tanaka (CEO & President of, JEUGIA Corporation) Coordinator
Seiji Murai (Executive Vice president of Cameo Interactive Ltd.) 
[Participation fee (consumption tax included)]
First Session only 4,000 yen
Second and Third Session only 8,000 yen
All day 10,000 yen
[Number of participants]: 240